Welcome to Cambria Hotel Minneapolis Maple Grove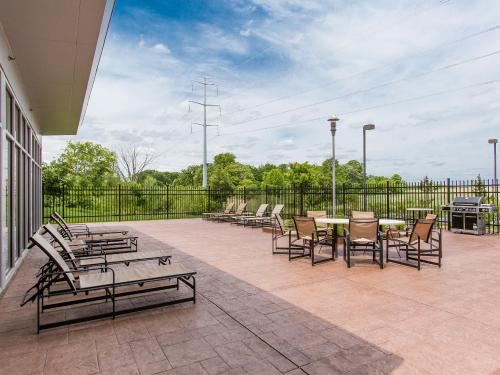 Business travelers will love the ease of doing business in the hotel business center and will appreciate the access to free WiFi. A meeting and conference area, which can accommodate up to 200 people, is also perfect for business or social events.

Make sure to start your day off right, at the Cambria Hotel Minneapolis Maple Grove with breakfast at our restaurant. Also enjoy our full-service bar, a barista bar, an indoor heated swimming pool and spa, and our state-of-the-art CustomFit fitness center. Guest laundry facilities are also available.


Hotel Amenities
Indoor Heated Pool/ Hot Tub

Banquet Rooms*

Business Center

Fitness Center

Guest Use Copy Machine*

Bus Parking

Outdoor Parking

Windows Open

Hotel Accessible to Individuals with Disabilities

Speaker Phone

Sundry Shop*

Guest Use Fax Machine*

No Pets Allowed

Lounge/Bar*
Choice Preferred Platinum Award
Sun Deck
Restaurant*
Afternoon Tea*
100% Smoke-Free Hotel
Government Travelers: FEMA Approved
Charge for Full Breakfast*
Elevator(s)
Valet Cleaning Service*
Guest Laundry*
Interior Corridors
Courtesy Transportation
Cold Weather Hook-up*
News Stand*
Hotel has Safe
* Indicates services/amenities that may require an additional cost.
Policies
Check-In: 3:00 PM
Check-Out: 11:00 AM
For group bookings, meetings and events: Please contact the hotel sales department directly at 763-488-4303
*Complimentary shuttle services for guests only and it is based on a first come/first serve basis. The shuttle service has a travel radius up to 5 miles from the hotel location and the shuttle is available from 7 AM until 10:30 PM. Any specific drop-off or pickup times must be scheduled two weeks or more in advance. Please schedule shuttle with either the front desk or with the sales department.